FXCubic completes integration with Match-Trader platform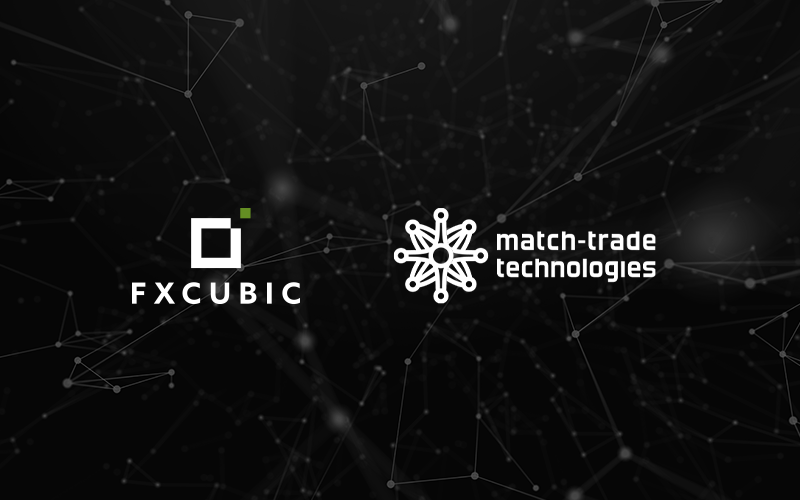 We are excited to announce the successful completion of our integration with Match-Trader, a multi-asset trading platform developed by Match-Trade Technologies. The integration provides brokers with access to a range of advanced liquidity management tools, including real-time pricing, deep liquidity, and risk management solutions, all seamlessly integrated with Match-Trader's intuitive trading platform.
Match-Trader is an award-winning trading platform, available in two offerings: as a White Label and as a Broker's Own Server. Clients can choose from a wide range of built-in apps, e.g. Social and Copy Trading solutions, Client Office, and Integrated Payments, which can be customised according to their needs to increase the potential of their business. Match-Trade Technologies operating globally since 2013, is dynamically developing its ecosystem, providing an open trading environment accessible via various APIs.
This recent integration with the Match-Trader trading platform presents a new and exciting opportunity for brokers looking to enhance their trading capabilities. With this integration, brokers can now benefit from the powerful combination of FXCubic's advanced liquidity management technology and Match-Trader's robust trading platform. This integration enables brokers to offer their clients a seamless and fully customisable trading experience. Additionally, brokers can take advantage of FXCubic's market-leading pricing algorithms to ensure optimal execution and competitive pricing for their clients. With this integration, brokers can gain a competitive edge in the ever-evolving forex market.
"We are excited to announce our integration with the Match-Trader trading platform, which further strengthens our commitment to providing brokers with the most advanced and innovative liquidity management solutions. By combining FXCubic's cutting-edge technology with Match-Trade's powerful trading platform, we are enabling brokers to enhance their trading capabilities and provide their clients with a superior trading experience. We look forward to working closely with Match-Trade Technologies to deliver unparalleled value to our mutual clients and further drive growth in the forex industry." said Wassim Khateeb, Chief Commercial Officer at FXCubic.
"I am very happy that we can work with such a dynamically developing company as FXCubic. We share the same values for constant improvement of our offer or paying special attention to user comfort. I believe that integrating our products will have a positive impact on our customers and will help them develop their businesses". added Chris Dankowski, Chief Operating Officer at Match-Trade Technologies.
The Match-Trader integration is the latest addition to our impressive list of partnerships and integrations with leading technology providers in the financial industry. FXCubic has recently announced successful integrations with TraderEvolution, CoinAPI, Refinitiv Elektron, and many others. These integrations enable brokers to access a wider range of liquidity sources and trading platforms, providing their clients with greater choice and flexibility. FXCubic remains dedicated to partnering with the most innovative and forward-thinking companies in the industry to deliver cutting-edge technology and exceptional service to their clients.
About Match-Trade Technologies
Match-Trade Technologies, established in 2013, is a fully integrated forex and cryptocurrency technology provider that delivers turnkey solutions for Forex Brokers, ECN Ventures, Liquidity Providers and Crypto Exchanges looking to access the retail and institutional spot forex markets. Match-Trade team of experts built a whole technological environment to guarantee the maximum performance of the tools they provide, like the Match-Trader Trading Platform or Match2Pay Crypto Payment Solution.